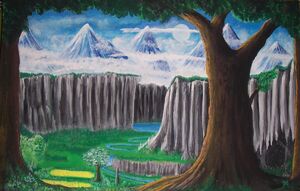 Vaneheim (Realm of the Vanes) is the beautiful home world of
the Vanes
, an ancient line of Gods separate from
the Ases
. It is the third in the spectrum of
the nine worlds
in Norse Mythology and borders to
Alfheim
and
Gudeheim
.
Vaneheim was for a time at war with Gudeheim, but at some point the Vanes and the Ases acknowledged each others power and righteousness, and made peace. As a show of good faith the Ases gifted the head Vane, Njord, and his family with homes in Gudeheim.
Community content is available under
CC-BY-SA
unless otherwise noted.